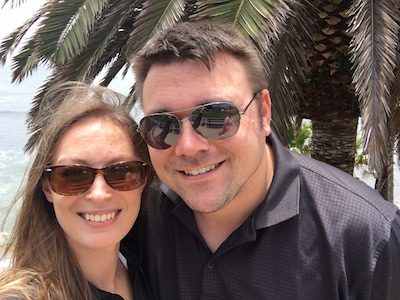 My name is Benjamin and my goofy companion is Alex. We are traveling full time for the next year. We travel all over with a goal of chasing beautiful locations that are around sixty degrees. Alex would prefer 110 degrees. She is always cold. (<– He's being exaggerative) I personally love when it's freezing but we've found a way to compromise.
We started as long-trip vandwellers but maintained a residence back home. Eventually our trips grew longer and we finally decided to get rid of our apartments and travel full time. Technically, we're still staying in a van but we upgraded to a mini-motorhome after running into a snag.
Why did we start traveling?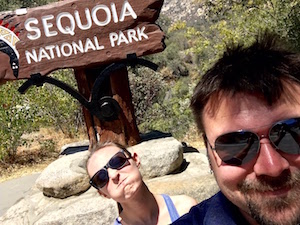 There is not a super amazing story behind how we started. I've spent a lifetime doing whatever crazy thing comes to mind. I've been a lake rat, trekked around on motorcycles, and randomly gone on all sorts of fun adventures. In fact, I had owned a RV with the intention to travel many years ago. It didn't work out like I expected and I eventually parted ways with that home.
I kept mentioning my desire to go on random trips to Alex (she's always game) and finally we did it for a few weeks. That's all it took. I was hooked. We dipped our toe in the water and I was addicted. We continued to go on new trips and each time it became more enticing. Finally, we both decided we were not going to renew our apartment leases and we were going to do this full time.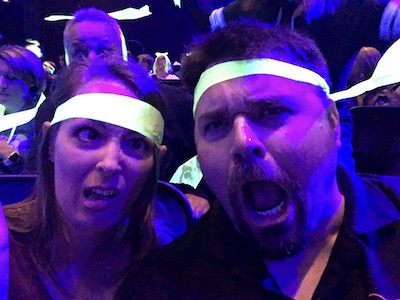 What does Benjamin do for work?
I've worked in several areas of the computer industry for almost twenty years. I started in Network Engineering which naturally pathed into Unix Engineering. I was a puppy then and garnered a passion for Software Development. I've been blessed to work at some amazing companies through the years with smart people. I've been accused more than once of being a workaholic. This misunderstanding is because my work was really my hobby and I love the industry. I've amassed a broad and senior bit of knowledge in disciplines all over the technology field. I've held several senior roles through the years, but ultimately, my passion is Software Development.
I currently work at an amazing company that explores all sorts of fun ideas about how to use computers to optimize our business processes. I still work many hours a day but the work can be done anywhere. This freedom allows for the travel!
What does Alexis do for work?
I started off working as a lifeguard for six years managing a number of pools and guards. I spent a year as a hostess/waitress for a local cafe. I stopped working at the cafe after a year and looked for something that could become a career. That's when I ended up at the company I work for now. I started as the front desk/office manager, and within three months was transferred to work on the helpdesk assisting with users computer troubles. Last August I was given an incredible opportunity to transfer onto our development team. I am now working on the automation of our onboarding and offboarding processes and upgrading our databases to the latest versions. Who knows after that! I may work on anything from automation-scripts to machine learning. The company we work for encourages personal growth and development. Our team also has the flexibility to work from anywhere which gives me the luxury to travel.
Our Hobbies
Alex: I have been an addict reader since childhood. I love reading books on fantasy, science fiction, and fiction in general. I'm often found with my nose in a book in my free time. I also enjoy hiking and look forward to the opportunities we now have to hike all across the country.
Ben: Most of my free time is spent finding new ways to make Alex cold. I've gone through so many fun phases that a tiny list of hobbies wouldn't really apply. I spend time dabbling in photography, I spend tons of time reading about new engineering technologies, I've recently been playing around with drones, I've taught myself guitar, drums, and piano; but, mostly I focus on keeping things changing. I hyper focus on one thing until I feel like I've got it mastered. When I feel like I've got a the hang of something, I try to move to the next.